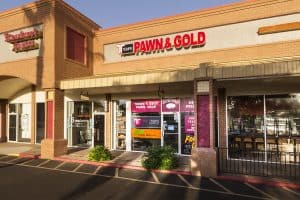 If you are located in Tempe, anywhere near Arizona State University's college campus, than you are in luck.  Because Tempe Pawn & Gold is not only the "Pawn Shop Near Me", we are the pawn shop that puts the most cash in your hands for your valuables!
We are located right on South Rural Road, and are only a 5 minute walk from the university's campus.
Convenience and Fast Cash…there is nothing better!
The Pawn Shop Near Me Offers the Most Cash Possible!
Whether you are looking to sell or pawn valuables, Tempe Pawn & Gold will provide an efficient assessment on your items, and will offer the highest amount possible!  Because it is our philosophy to be the one-stop shop for all of your cash needs!  Whether you have electronics, designer handbags and shoes, audio equipment, jewelry, we know how to treat our customers right!
Title Loans
You can get a title loan on your vehicle if you need a large some of money, and longer than 90 days to pay off the loan.  Because we proudly work along side with Phoenix Title Loans LLC,  They are a title loan company with multiple locations across the valley.  And continue providing hassle-free title loans for over 10 years.  In addition,  they provide loans on your vehicles, and you still get to drive your car while paying off the loan.
Notary Services
If you are needing any legal documents witnessed as you sign, Tempe Pawn & Gold also offers Notary Services on-site.  However, we also have Mobile Notary Services that come to you if need be.  Please call, text or click on the bottom right to schedule an appointment.
Tempe Residents Trust Tempe Pawn & Gold
Being in this industry as long as we have, you gain a reputation depending on your reliability.  Tempe Pawn and Gold proudly is held in high esteem with the community as the that offers the most cash possible!