Sell Gift Cards Tempe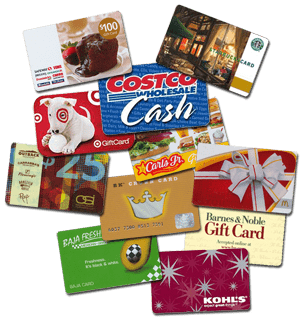 Gift Cards are Bigger than EVER!
A recent study shows that more than 44 billion dollars in gift cards have gone unspent since 2008. On top of that, a quarter of gift card recipients still haven't spent gift cards a year after receiving them, according to a Consumer Reports survey. Seems a little ridiculous, doesn't it? Many of us are guilty of simply tossing our gift cards in a drawer and forgetting about them. Why not come in and exchange them for CASH at out pawn shop, one of the only places in Tempe, Scottsdale, Mesa, and Chandler that will give you cash for your unused gift cards!
Sometimes, gift cards really AREN'T the perfect gift. Gift cards accumulate very quick; it seems there's a gift card for just about everything! Cash is the perfect solution for this. Any bill is accepted at EVERY retailer, as opposed to having a gift card for one shop. So come in to our pawn shop today and get cash for your gift cards!
We want to be your gift card buyer Tempe for ANY and ALL major retailers; Aeropostale, Airbnb (Don't Scratch the PIN!), American Apparel, American Eagle, Arby's, Barnes & Noble, Best Buy, Cabelas, Chili's, Disney Store, Dunkin' Donuts, literally everything we can possibly take! Come in to Tempe Pawn and Gold today to get the most cash for your unused or unwanted gift cards!
Are There Any Gift Cards You WON'T Take?
Less 'won't' and more 'can't' in that regard; but sadly, yes, there are certain cards we cannot take. Such cards are the major retailers of Wal-mart and Target. These two in particular (Wal-mart and Target) have proven the most difficult, so we must regretfully decline taking them. Also, the following cards are not accepted as well, as we cannot give you the full amount we are able to provide:
Toys R Us
Apple iTunes
Starbucks
We simply don't want to give you false hope in getting the money you need from these cards. We apologize for the inconvenience, but still encourage you visiting us with any other remaining gift cards.
Here's some of the Gift Cards you can Sell to our Store:
Why wait? Stop by today to sell your unwanted Gift Cards in Tempe!
 It's never a bad idea to sell gift cards, so come and get the cash you need from those unwanted gift cards. Don't let those cards go to waste and be a part of that 44 billion dollars, sell them in Tempe before you forget about them!
Don't forget: we also proudly serve Scottsdale, Chandler, Mesa, and all the surrounding areas!