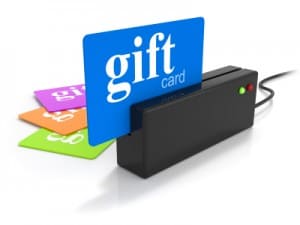 The Gift Card Buyer That Tempe, and the Sun Devils, Trust!
As the top pawn shop in Tempe, Tempe Pawn and Gold has always strived to do its most for its customers.  What we've come to realize, is that there's an extra way we can help our numerous customers and one that they may not even know about.  When we're in times of deep financial need, we often aren't sure which direction to turn.  All we have left, our valuables, are necessities: our cell phone, our laptops, our televisions, we need these and can't get rid of them as we're just creating another financial problem to solve one.  Tempe Pawn and Gold has stepped up to help our customers, and fill a needed fast cash service: gift card buyers.
When we really need cash and have tapped out all of our resources, there aren't too many ways to turn.  Just in the past decade, gift cards have become the most popular gift in the entire United States for all holidays; birthdays, New Years, Christmas, gift cards are given for all.  The problem is, that after one of these holidays, we seem to have more gift cards than we can even spend in a year, so they end up stacking up in a corner.  Or, you get a gift card to Home Depot, and you never shop there, so what're you going to do with that?  Finally, there's Airbnb, the revolutionary rental darling, and their gift cards as well (Don't Scratch the PIN!). Let us be your gift card buyer!  If you need cash, or just have gift cards that you're never going to use, why not turn them into cash in mere minutes and bring them down to the top pawn shop in Tempe, Mesa, Chandler, and Scottsdale.
So, How Can We Be Your Gift Card Buyer?
The process is incredibly quick and completely simple.  But first, a warning to anyone who hopes to make Tempe Pawn and Gold their gift card buyer.  Just about all gift cards have a small grey area on it that can be scratched like a lottery ticket concealing a PIN, or a personal identification number, similar to what debit cards have.  This PIN is used as a security feature for gift cards and ensures that someone, in the store, can't just write down your gift card number and spend it online as soon as you activate it.  So, if you're bringing down your gift card to our pawn shop, make sure you don't scratch off this PIN number, otherwise, we can't get you the fast cash you need.
Now, the actual process takes just a few minutes.  When you bring your gift card down, one of our lovely ladies will take it from you and ask you for the balance.  We will then either call, or check online, to verify the balance on the gift card.  Once verified, we'll make you a cash offer on the spot for buying your gift card.  It's important to note here that we don't discriminate, and will buy ANY gift card from ANY store.  Once you have accepted our cash offer, we'll collect just a few signatures from you, and send you on your way with cash in your pocket.
Are There Any Gift Cards You WON'T Take?
Less 'won't' and more 'can't' in that regard; but sadly, yes, there are certain cards we cannot take. Such cards are the major retailers of Wal-mart and Target. These two in particular (Wal-mart and Target) have proven the most difficult, so we must regretfully decline taking them. Also, the following cards are not accepted as well, as we cannot give you the full amount we are able to provide:
Toys R Us
Apple iTunes
Starbucks
We simply don't want to give you false hope in getting the money you need from these cards. We apologize for the inconvenience, but still encourage you visiting us with any other remaining gift cards.
Tempe Pawn and Gold has been proudly serving the areas of Mesa, Tempe, Chandler, and Scottsdale for over a decade, and as the top pawn shop in town, is always doing the most it can to ensure our customers are getting the most cash for their gift cards.
Here are some of the Gift Cards we are more than willing to buy: