Gold Loans from Tempe Pawn and Gold
We pay cash for gold at Tempe Pawn
The Local Tempe Pawn Shop, Friendly, Highly Rated and Hassle-Free
Pawn Shop | Gold Buyer | Title Loans | Laptop Buyer
If you are looking for a pawn shop or a gold buyer right here in Tempe, we are near you.  Our pawn shop in Tempe is recognized as the best and most trustworthy gold, diamond, silver and jewelry buyers In the Tempe, Greater Phoenix, Scottsdale, Mesa, and Chandler areas. The reason behind this trust is our consistent honesty, integrity and the most cash for gold & jewelry.  We provide our clients here with the highest of respect and value their time at the pawn shop in Tempe, also serving Scottsdale, Mesa, and Chandler.
---
Not quite as famous as the Gold and Silver Pawn Shop in Las Vegas, but still one of the best pawn shops in Tempe.  We are a very famous pawn shop in Tempe, that also serves Scottsdale, Mesa, and Chandler. We offer instant cash with 0% interest payments for first 30 days for new customers if you print out and bring in this page!  When it's fast cash you need, know you can get it here.  When financial struggle truly hits, you don't have time to go ask family, or go to a bank and get a loan.  That is why Tempe Pawn and Gold is here to serve you and help you through your financial struggles.
A pawn shop is less of a thrift store and more of a community store meant to not only house affordable electronics, jewelry, video games, cell phones, laptops, and power tools but more of a place where individuals can go to get the fast cash they need in a hurry.  More on this in the next paragraph.  We're a community store similar to Good Will in that we have thousands of items at heavily discounted prices all in working order.  Our heavily discounted items are here for you, as we can't all afford the newest and greatest.
Pawn Loans
A pawn loan is a collateral loan in which you use your item as collateral towards a loan.  First and foremost, the pawn loans are governed and regulated by not only federal law, but also state law meaning you, the consumer, is always protected.  Now, the way a pawn loan works are you bring in your item and we test to verify the item works.  If the item works like it should, we make you two offers.  One is an offer for which we will outright buy your item, and the other is an offer for the pawn loan.  The pawn loan price is usually always higher than the buy price because we'd rather you get your item back than us take it from you.
The pawn loans are traditionally written out for 90 days(with which you can have the first 30 interest-free if you print out this page and bring it in) wherein there's a set monthly percentage rate.  All you have to worry about is paying the monthly interest on the loan, and there's no worry on paying us back.  You pay us back when you're in a financial situation to do so.  The loans can also be extended at your request, given that the interest is up to date at the end of the 90 days.  If you fail to make payment by the end of the term, you relinquish the item as payment for the unpaid loan.  We're always willing to work with you, though, so always keep an open line of communication and we'll do our best to help you every step of the way.
If you need fast cash in Phoenix, Tempe, Scottsdale, or Mesa, our pawn shop is here to help you with your pawn loan needs.  Come visit today!
---
We know the exact value of your diamonds because we are the expert diamond buyers in Tempe. We buy diamonds and pay the highest prices in the market. Our hassle-free process ensures that our specialist will handle your diamond(s) will care and evaluate it with the highest of precision.  There are three factors that we heavily value when diamond buying.  We call these the three c's: cut, color, and clarity.  Our associates, with near a decade of diamond buying and diamond selling experience, are able to analyze these three qualities to their fullest extent to ensure you get the maximum amount of cash you need.
If you're in need of fast cash, and don't have the luxury of time to go down to a bank to apply or wait for approval, your diamonds could be your ticket to the cash you need.  A diamond loan can be issued the same way a pawn loan is, and can be serviced in less than 30 minutes.  Pawn loans are the pawns offered at a pawn shop but can be heavily discounted from pawn shop rates depending on the size of the pawn loan.  Since diamonds tend to be more expensive in nature, you can get a much lower interest rate, and don't have to borrow ALL the money we offer you.
Whether you're in Phoenix, Tempe, Scottsdale, or Mesa, your diamonds can get you the fast cash you need and solve your financial headache within minutes.  The process is incredibly simple: simply bring your diamonds down to Tempe Pawn and Gold and allow us to appraise them.  We'll make you a cash offer on the spot, and you can borrow only as much as you actually need.  We'll hang on to your diamonds and store them in our safe, secure storage facility and you can come and get them as soon as you have the money back.  Getting a diamond loan is as easy as getting money from the bank.
---
No matter old or new, we buy gadgets and electronics like TVs, Cell Phones, Laptops, and High-End Watches, and more in Tempe. Do you have an Apple iPad or iPhone to sell, or any cell phone in Tempe? Come to us and get paid instantly for its worth. Bring in its accessories and get more when it is bundled together.
Tempe Pawn and Gold will buy your laptop!  If you'd like to sell laptops, or even buy laptops or buy computers, we have a huge laptop and computer section, and also will buy your laptop from you for the most money in Phoenix, Tempe, Mesa, and Scottsdale.  Our laptops are top of the line and are repaired upon arrival by our certified technicians.  All of them are guaranteed to be in 100% working order for all of your daily computing needs.
If you'd like to sell your laptop, we guarantee to give you top dollar for it.  All we do is a few simple tests to confirm it is in proper working order, and then you're off on your way with cash.
---
Sell your gold to us for a price that you will never get anywhere else. We take pride in offering the top dollar for your gold by perfectly examining and evaluating it here at our gold dealer in Tempe. We will make it sure that you completely understand the difference from other cash for gold companies and Tempe Pawn and Gold.  We will help you learn an overall understanding with every step on how Cash for Gold in Tempe works.
Gold Prices
Even with gold prices on the decline, we're your gold buyer in Tempe, Phoenix, Scottsdale or Mesa.  We've believed in gold for over a decade, and to this day it remains our favorite investment.  For over two millennia, it's been a highly coveted metal and continues to be valuable to this day.  If you have gold jewelry, gold rings, gold necklaces, gold anything, it can quickly be turned into cash just by visiting our store.  Our store is unique in the sense that we stay on top of the gold prices, and also our gold buyer competition.  We survey their prices, and gold prices weekly, to ensure we're giving our customers the best price truly available.  We pay up to 98% of gold value!  If you can find any gold buyers in town near that, we applaud you, but we're the best, and will ensure you're getting your deserved money.
Gold jewelry is also extremely valuable.  We're your gold jewelry buyer in Tempe, Mesa, Scottsdale, and Phoenix, and will give you the most money for your prized jewelry.  Whether you have estate jewelry, or just gold jewelry in general that you don't need, we're here to buy it from you.  Gold jewelry will typically be engraved with its carat cut, so that we(and you) are aware of the type of gold it is.  If we find the inscription, we'll always let you know, as honesty is our number one policy.  If not, our trained associates have been in the business for over a decade, and will tell you exactly what the cut and clarity is of the jewelry you have.
History of Gold
The value of gold goes back multiple millennia due to its beauty and lustrous qualities.  Before people were even aware of how scarce it was, it held great valuable solely due to the fact that it was appealing to the eyes.  The earliest mention of gold happened in, of course, Egypt wherein a King, Tushratta, stated that it was "more plentiful than dirt."  Even given this fact, it's no wonder many ancient Egyptian hieroglyphs and ancient Egyptian tombs, statues, masks, wigs, and all sorts of accessories were made out of gold.  The Egyptians saw its value as a beautiful precious gem and used it as such.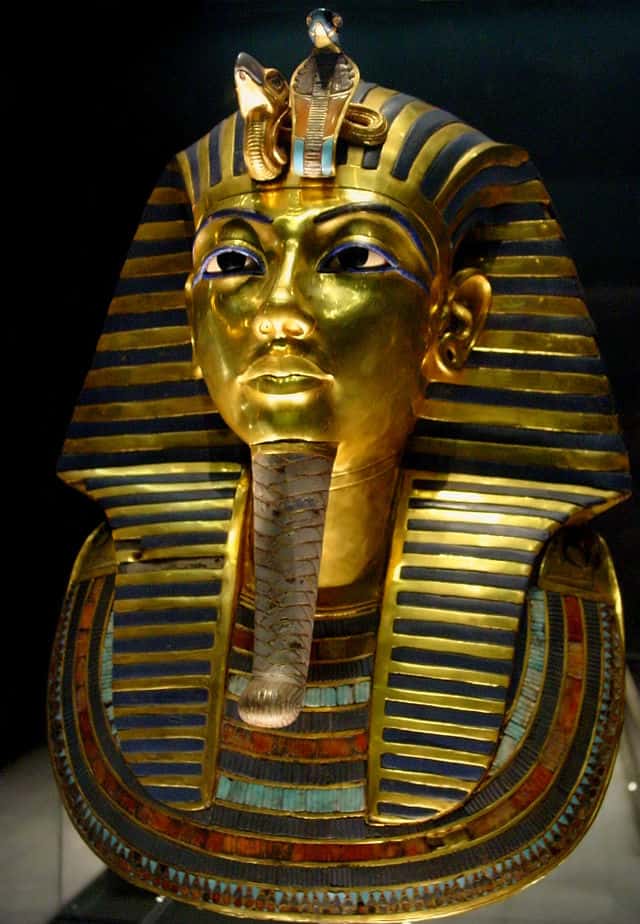 Gold in America is perhaps one of the most talked about things in history throughout a student's educational career.  The
California Gold Rush
 took place after the colonization of America in the 1800s.  Gold was extremely valuable at this time, and we were still unearthing it from around the world.  When James W. Marshall found gold at Sutter's Mill in California, it began this rush which involved over 300,000 people migrating over to California under the guise of riches to be made.  Anyone who struck gold during this period was sure to live a long, happy and healthy life.  However, many people left with less than they came with as there was so much competition.  This is just one famous example from the world's history of how gold-crazy people can be.
Even today, in modern times, it seems people are gold-struck.  With people realizing in this day and age that gold remains a strong investment and that cash cannot always be counted on as an investment, both investors and households have begun to snatch up gold, and others have begun to sell gold to accommodate this high demand.  Many people seemingly accrue items made of gold as years go on, and it can now be quickly liquidated at pawn shops, and at specifically gold buying places around town.
---
Tempe Pawn and Gold 
is proud to offer auto title loans in Phoenix, Tempe, Mesa, and Scottsdale.  First, it might sound weird getting an auto title loan from a pawn shop, but you can trust us.  All of our auto title loans are serviced through a third-party provider, not through us, called
Phoenix Title Loans, LLC
 who has an
A+ rating with the Better Business Bureau
 so you know your vehicle is safe with us.  All it takes is a clean title, an ID, and you can have thousands of dollars in fast cash waiting in your pocket.
Phoenix Title Loans, LLC, has 10 different locations to serve you effectively.  No matter what city you're in, we're able to serve you and get you the fast cash you need.  Auto title loans even allow you to drive away in your vehicle so that you can still get to and from work without a hitch.  They work in the same way that a pawn loan works, except you get to keep your vehicle and drive it away the same day.  All in all, the process will take you under an hour, so if you need fast cash, an auto title loan is a way to go.
Vehicle Value
We value vehicles on many criteria such as model year, mileage, and condition.  For the model year and mileage, we strictly use Kelley Blue Book to value your vehicle.  That's not to say that we give you the full book value for your car, but we give you a significant portion of it.  You, from that point on, have the option to either take the full value we offered or to take less to avoid future interest charges.
There are many great articles on Phoenix Title Loans, LLC that will give you lots of good information such as :
How to Get The Most for Your Vehicle
How to Get the Lowest Interest Rate
All of this information is here to help you and make sure you're the most comfortable you can be getting an auto title loan.  We're here to help every step of the way regardless of whether you're in Phoenix, Tempe, Scottsdale, or Mesa.
Motorcycle Title Loans
We're also unique in the fact that we'll offer you a loan on your motorcycle.  We offer motorcycle title loans on any and all motorcycles.  Just like an auto title loan, you can get fast cash with a motorcycle title loan.  During the duration of your motorcycle title loan, your motorcycle will be stored in our safe, secure storage facility.  We're one of the only providers in all of the state of Arizona who are happy to give you the most money for your motorcycle regardless of the brand.  Bring it in today and walk out with fast cash in less than an hour!
---
Our Promise:
For Over 10 Years, we have been providing collateral Pawn Loans, Buying Gold, Diamonds, and Silver from many satisfied customers throughout The Valley of The Sun and most important, right here in our Home Town of Tempe Arizona.  Our Promise is to offer YOU cash for your gold and jewelry without any hassle; To Lend YOU the most money for your pawn items; To give you the most money and the best rates around for your Auto Title Loans; And To TREAT YOU WITH RESPECT  to handle your business with strict confidentiality.
Read our testimonials of some of our satisfied clients and you will quickly understand why you should come in and sell your gold and jewelry, electronics and/or tools, to our pawn shop in Tempe.
  Feel free to Call Us now at (480) 464-0000 and ask us about cash for gold current prices, our pawn shop and our Auto Title Loans.