Pawn Diamond Rings for Cash on 90 Day Loan

With such a limited supply of diamonds in the world, every owner of one must make the decision of what kind of jewelry they want to set it in.  By far, through the way that us Americans have purchased our diamond jewelry, this decision has always been to create diamond rings.  From truly life-altering events to familial relationships, a diamond ring represents an incredible symbol of love and long-lasting relationships with those that we love.  The strength of these relationships is clearly shown in the immense value that it costs for diamond rings.
The beauty lies in the fact that even in the aftermarket, these rings still have immense value to others!  At Tempe Pawn and Gold, pawning diamond rings is one of the safest, securest, and fastest ways for any customer in Tempe to get fast cash in moments of financial disparity.  Let's take a look at how you can turn your diamond ring right into cash with one of our Tempe pawn loans.
Cash for Diamond Rings in Minutes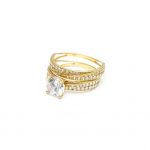 A pawn loan is a unique type of loan that is used less often today than in the past, but is often overlooked when we find ourselves needing money in that exact moment.  Also referred to as a pawn loan, these types of cash loans use only the value of the collateral (in this case your diamond ring) to determine how much cash we can loan as well as other loan terms like the interest.
This means that no matter what your history with credit, income, or whatever, you can get cash by pawning a diamond ring too.  This allows it to take as little as fifteen minutes and you can go from having zero dollars in your pocket, to hundreds of dollars.  Pawning diamond rings at our Tempe pawn shop is the fastest way to solve your financial problems seven days a week.
Where Your Diamond Ring Goes During the Loan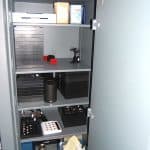 First and foremost, all of our pawn diamond ring loans are written out for a period of ninety full days.  And at any point during this it can be retrieved by repaying both the principal loan balance and the interest of the loan.  If you come in and pay the loan amount in full before the 60th day, we will deduct a redemption discount from the total amount due.  Thus, costing you less to retrieve your diamond jewelry, as a reward for early payment.
With that aside, it's important that our customers understand that at Tempe Pawn and Gold we place the security of our customer's items, particularly when it comes to valuable jewelry, above all else in our business practices.  All jewelry is stored inside a massive vault like you would find in a bank and is kept there, untouched by anyone, until its owner comes to reclaim it.  This is ensured through having each person seeking a loan sign the bag so that they can verify it was never touched during the process.  No matter if you're a customer from Tempe or Scottsdale, pawning a diamond ring receives only the best service available at Tempe Pawn and Gold.