Tempe Pawn & Gold Buys and Sells Used Laptops
Why Sell Your Used Laptop?
In the age of ever growing technology, your used laptop quickly becomes outdated.  Especially if you're an Arizona State University student, you want to ensure that your used laptop isn't going to crash and cost you all of your work.  The best pawn shop this side of Tempe will buy your used laptop from you for top cash, and can even give you trade-in value towards getting a new laptop.  It's truly not worth the risk of possibly losing all of your information, so sell used laptops to us today!
There's a very clear, obvious reason as to why you should sell your used laptop.  Most people run to selling their used laptops because they want to upgrade to a new laptop, but sometimes we instead buy a new laptop without selling the used laptop.  This is a big problem for those of us who have a used laptop just sitting in a closet collecting dust!  Why?  Because it's going to be worthless!  You won't be able to sell a used laptop if you wait far too long to sell it.
Let's just look at the pace at which technology is advancing today.  With each coming year, we're finding newer and newer technology making everything before obsolete.  Just look at the prices of older used iPhones, Tablets, or any other laptops or computers.  They become worthless after just a few years, which is going to happen to you.  It sounds like a good idea to hold on to an old used laptop just in case we need a backup, but the reality is that there's no reason to.  By the time your new laptop ends up not being as quick, the older laptop will be even worse compared to technology at that time.  If you're in Tempe, Scottsdale, or Phoenix, you only have one real option and that is to sell your used laptop to Tempe Pawn and Gold.
Why Buy A Used Laptop?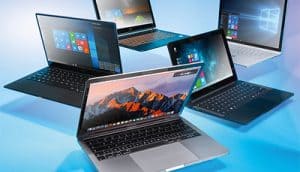 The easy answer is because it's cheap!  The other answer is due to technology.  Less than a year after you purchase a new laptop, there's already a bigger and better one out.  Our world is moving at a fast-pace, and so should you.  Come sell your used laptop (2 years old or less), and buy a used laptop today!  All the laptops we receive here at Tempe Pawn & Gold are inspected and reformatted to ensure that our customers are getting a quality used laptop.  We're the top used laptop buyer and used laptop seller, and are experts at ensuring that our laptops are up to speed.  We gladly take in laptops from surrounding Tempe residents as well.
What Kinds of Used Laptops Do You Buy?
We buy any and all used laptops, computers and electronics.  Regardless of where you're coming from in or around the Tempe area, we'll gladly buy your laptop.  Here's just a small selection of used laptops we purchase:
Apple MacBook Pro
Acer Swift 3X
Dell XPS 13
HP Spectre x360 14
Lenovo IdeaPad Flex 5
What Kinds of Used Laptops Do You Sell?
All kinds!  Our inventory here at Tempe Pawn and Gold is constantly changing.  Every day we buy and sell laptops and tablets at our store.  Come and pay us a visit, and see our selection of used electronics for sale.  If you're an Arizona State University student, don't risk losing all your hard-earned work, come and make sure your work is safe with one of our used laptops today.
We can even offer you a trade-in bonus towards one of our used laptops if you bring us your used laptop back in.  Our laptops are tested and reformatted to ensure nothing ever happens.  We have great deals for Arizona State University students, and great deals for everyone in general.  Tempe Pawn & Gold proudly services Tempe, Scottsdale, Mesa, and Chandler.  Come visit today!